Top NC and SC Web Sites List dominates in Carolina!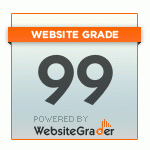 CarolinaSites.com
99/100 Score = in Top 1%!
First Achieved: 06/28/2011
to celebrate
Carolina Day
!
Yes, we know what we are doing at optimizing the Power of Community
among Members of The Top North and South Carolina Web Sites List!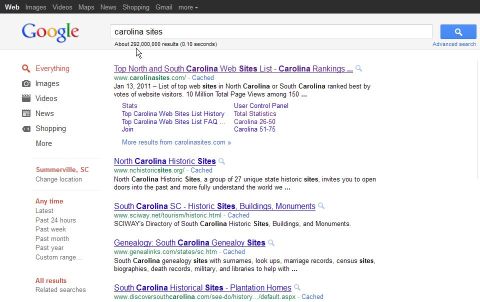 Google has rewarded this site with Site Links, essentially Positions 1-10!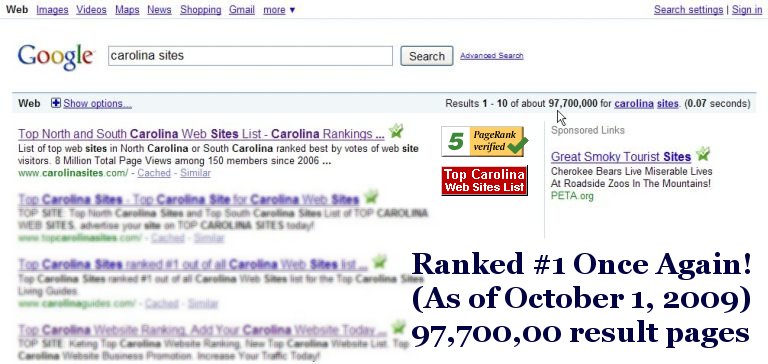 The number of pages Google found when searching for Carolina sites has been as high as
292 Million, but the Top Carolina Sites List has remained LOCKED into the #1 Position!
Top Carolina Web Sites List #1 in Google over 800+ Million pages!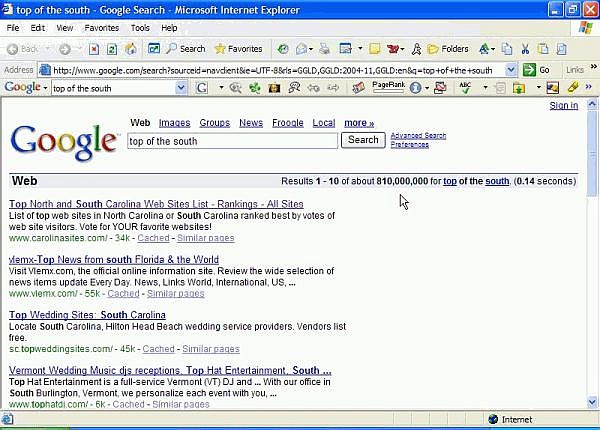 Ranked #1 over 800+ MILLION pages! (Shortly after relaunch 02/28/2006.)
Old Top Carolina Web Sites List #1 at Google on 5/25/2005.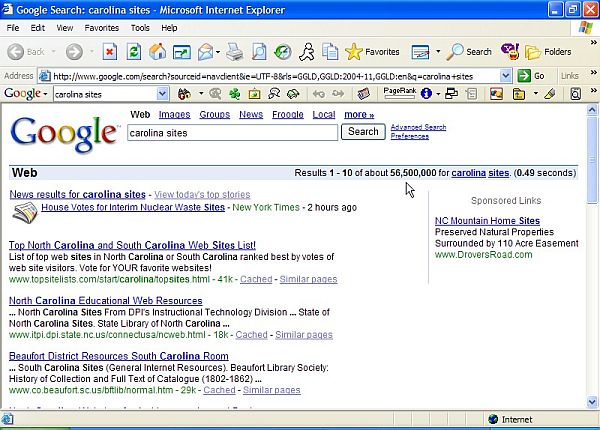 It's NOT just because we have the domain name CarolinaSites.com that helps us to earn #1!
The screenshot above, captured over 10 years ago, shows old web address with old domain.
(In fact, Top Carolina Web Sites List was #1 when Google found less than 6 million results.)
Our site started in 2003, but it has already exceeded 12 Million Total Page Views since 2006!
For proof of that, look at our Total Statistics page (on second row down in far right column).
Can Top Carolina Web Sites List bring YOUR site LOTS of FREE traffic?

Top Carolina Web Sites List was a #1 traffic source! (Almost 4X Google!)
Join Carolina Banner Exchange to rotate your ad at bottom of all pages!
By joining together, ALL members of Top North and South Carolina Web Sites List benefit.
With best PHP Topsites software now run off our own server, this list's future is very bright!

Our 88x31 buttons (below) have been shown 12 MILLION Times in last 10 years!
Original 88x31 button (2003-2005)

|

Current 88x31 button (2006-2016)
Since May of 2006, we have also been using 25 other 88x31 buttons with a rank number on them.
The Top Carolina Sites Topsite software will automatically send the right rank button to your site!
If you want to Join, you MUST add our voting button on your site's home page!
So, want the Skinny on how this site works? It's quite simple...
The Top 10 Ranked Carolina Web Sites can display description with a banner.
Carolina Web Sites ranked from 11-25 can display description, but no banner.
Carolina Web Sites ranked 26+ on extra pages with description, but no banner.
Featured Carolina Web Site (chosen at random) has description with a banner.
Some people think, with 25 sites per page and 150 sites, this site may have 8-10 pages total.
There's a LOT more content here than most realize at first. We now have almost 500 pages!
Look at our Site Map, which links to ALL Pages Available.
Thank You Very Much for YOUR Participation!

|

|

|

|

|

|

|


---
Join Top NC & SC Web Sites List! Maintenance: Carolina Web Marketing Web Hosting: Carolina Web Hosting
All content Copyright © 2003-2017 by Bob Chapman and Award Winning Web Site Designs. All Rights Reserved.